Smartphones are among one of the most popular product for online shoppers in India. It's down to convenience, some discounts or deals and offers that e-commerce platforms like Amazon and Flipkart are perennially offering. Have you wondered which are the top most popular brands for online shoppers in India? A report by Counterpoint Research reveals the top 5 smartphone brands in the online shopping space.
According to Counterpoint, Xiaomi — not surprising — is the most popular brand for online shoppers in India. Xiaomi — including sub-brands like Poco and Redmi — accounts for 40% of market share and emerged as the top online selling brand in India. Xiaomi, incidentally, is also the market leader in the overall Indian smartphone market.
In the second spot is South Korean tech giant Samsung with 19% market share. As per Counterpoint Research, Samsung's M-Series of smartphones have been the growth driver in the online space. The report further reveals that one-third of online shipments of smartphones on Amazon were captured by Samsung.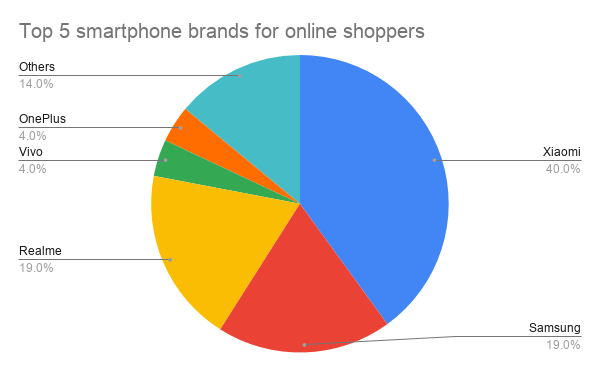 Chinese smartphone brand Realme also accounted for 19% market share and secured the third place.
Not surprising to see another Chinese brand dominating in Indian online space. Vivo was the fourth most popular brand with 4% market share.
OnePlus rounds off the top 5 list by capturing 4% market share. OnePlus was also the most popular online brand in the premium segment. The rest of the market was captured by "Others".
"Major online brands are adopting a hybrid channel strategy and expanding their offline stores. Also, as the smartphone brands move to a more ecosystem strategy and multiple devices, the focus will be on consumer experience, which will further grow the offline segment," according to Counterpoint report.
timesofindia.indiatimes.com