Before Steve Jobs co-founded Apple, he dropped out of Reed College in the US at the age of 18 years. And like any college dropout, Jobs was also hunting for jobs! One of the first job applications he wrote in 1973 fetched GBP 162,000 (or around Rs 1.6 crore) recently at an auction in the UK by Charterfields. This is claimed to be an original handwritten job application by Steve Jobs before he eventually got hired at Atari in 1974.
In the application, Steve Jobs mentioned that he had no phone number but had a driver's license. Also, he had left the section of past experience blank. Interestingly, he had mentioned "possible, but not probable" as his answer to the question: Access to transportation? As for his education, he mentioning English Literature as his major subject.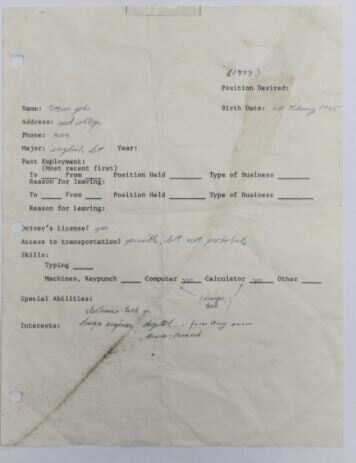 He highlighted his skills in designing computers and calculators and interests in design, electrical tech and digital. The application looked very simple and is nothing compared to what we usually see today. However, one cannot ignore the fact that Steve Jobs did not want to boast much in his application to impress the recruiters. After getting hired at Atari in 1974, Jobs met Steve Wozniak and the dua founded Apple in 1976 in a garage.
The auctioneer claimed that "the application is in very good condition with some overall creasing, light staining and old clear tape to the top edge. It is accompanied by letters and certificates of authenticity." It also claims that this questionnaire is believed to have been completed around the time Steve Jobs dropped out of Reed College in Portland, Oregon.
The auction took place between February 24 and March 24 and fetched GBP 162,000.
timesofindia.indiatimes.com