Google is working on a feature for its digital voice assistant that will allow users to skip saying 'Hey Google'. This essentially means that a user will no longer have to add 'Hey Google' before giving voice commands to the Google Assistant for specific tasks. As per a report by 9to5Google, a breakdown of the Google Assistant's latest APK Insight suggests that the tech giant may launch 'Quick Phrases' that will offer the new ability.
What commands will be included under the Quick Phrases?
Codenamed 'salsas' in the app APK, users will be able to add these specific tasks as per their choice. These phrases will be categorised into 'Recommended', 'Alarms', 'Connect', 'General info', 'Lights', 'Media Controls', 'Timers', and 'To-Dos'.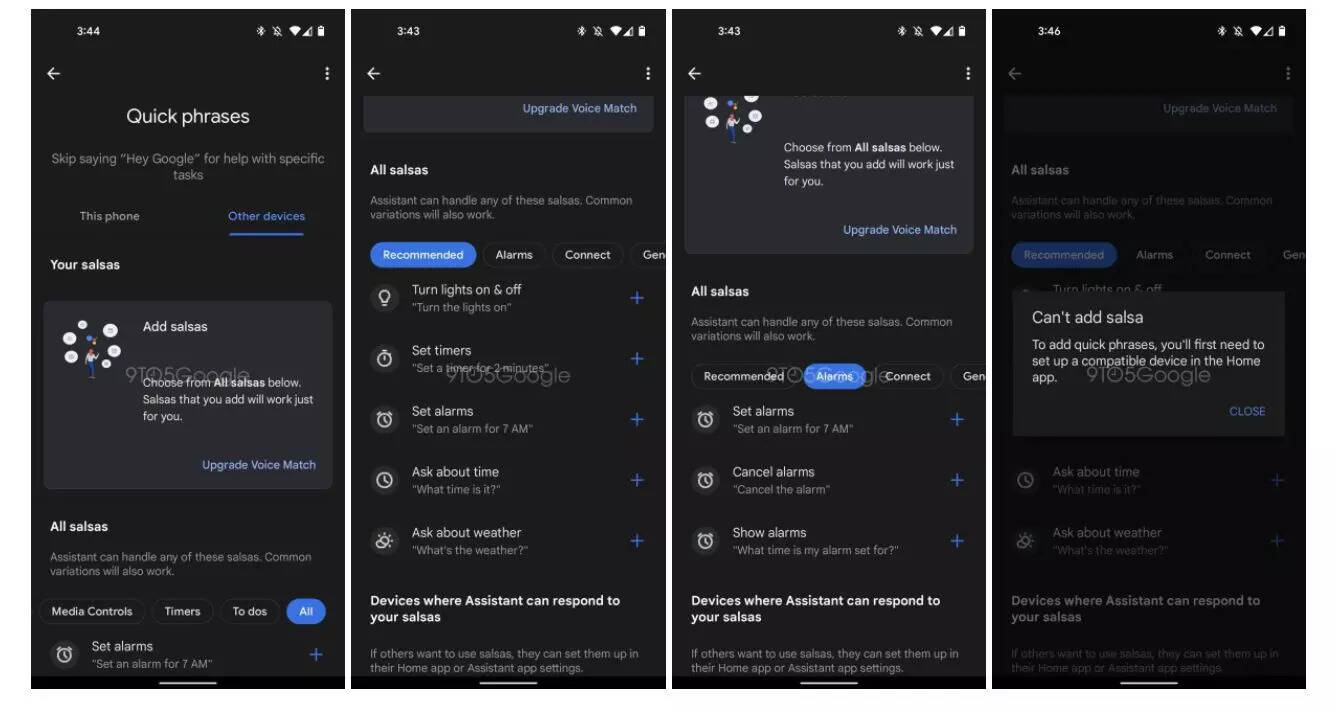 Credit: 9to5Google
A screenshot shared by 9to5Google shows the following list of commands that will no longer require the use of hotword
Set alarms: "Set an alarm for 7 a.m."
Cancel alarms: "Cancel the alarm"
Show alarms: "What time is my alarm set for?"
Send broadcasts: "Send a broadcast"
Respond to calls: "Answer" & "Decline"
Ask about time: "What time is it?"
Ask about weather: "What's the weather?"
Turn lights on & off: "Turn the lights on"
Turn lights up & down: "Increase the brightness"
Control volume: "Turn up the volume"
Pause & resume music: "Pause the music"
Skip tracks: "Skip this song"
Set timers: "Set a timer for 2 minutes"
Cancel timers: "Cancel the timer"
Pause & resume timers: "Pause the timer"
Reset timers: "Reset the timer"
Show timers: "How much time is left?"
Reminders: "Create a reminder"
Family notes: "Create a family note"
Which devices will support the ability?
The 9to5Google report says that along with smartphones, smart speakers as well smart displays can go hotword-free with the new ability. However, there is no timeline as to when the feature will be available.

timesofindia.indiatimes.com