NEW DELHI: When the Tokyo Olympics were postponed to 2021 last year, nobody knew what life would be like a year on from that time. Vaccines were being looked at as the ultimate protection. The vaccines have arrived and are still the best saviour in sight, but the trend of mutations of the Covid-19 virus has threatened to break that firewall at some levels.
In between all this, the indications from the International Olympic committee (IOC) and the organising committee in Japan have been that they are sure about pulling off the Games. But what would be the nature of the Olympics in that case? It certainly will be far from a 'festival'.
An estimated US$15.4 billion ride on the rescheduled Olympics, but the majority of its burden rests with the taxpayers in Japan. That, and more importantly the growing threat of Covid-19 to human life and a stretched medical infrastructure, has led to voices of opposition against the Tokyo Olympics.
STATE OF EMERGENCY
On Wednesday, Tokyo reported 621 new Covid-19 cases. It doesn't sound much for a city with 37 million people. But what will make the organisers sweat is when that figure is viewed in the context of the Olympics beginning July 23, less than three months from now.
Tokyo is currently in a state of emergency until May 11, which is likely to be extended to May 31 and include more perfectures than just the Tokyo and Osaka regions.
Tokyo governor Yuriko Koike had earlier called for the state of emergency to be extended.
"We are not in a situation in which the state of emergency can be lifted. We believe it's necessary to extend the measure," Koike had told reporters.
Speaking to TimesofIndia.com about the current situation, the coach of the Japanese men's hockey team, Siegfried Aikman, said every time Tokyo had a state of emergency, the number of positive cases went down. He sees no reason why that won't happen even with the virus mutating rapidly.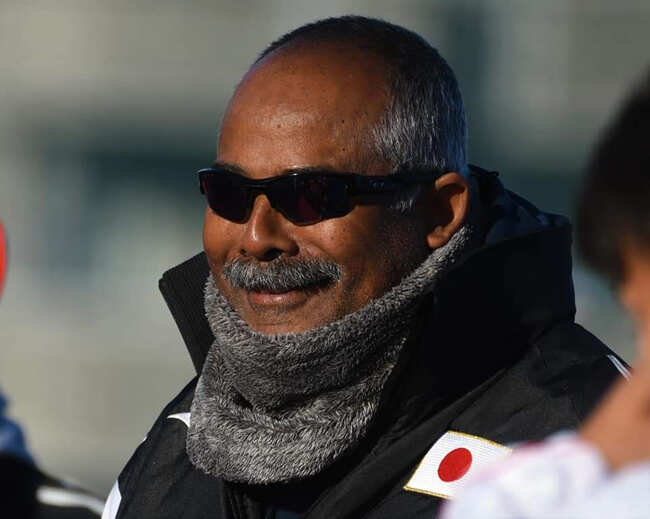 Siegfried Aikman, Japan hockey coach (Facebook photo)
"I think on a scale like this, with the population Tokyo has, [even] 1000 cases is not much. But it's still alarming and they [the government] are working on it. I hope that it will be controlled in a month's time. Every time they had a lockdown [emergency], numbers rapidly went down," said Aikman, who recently travelled with his team to Malaysia for a friendly tour.
COVID ENTERS TORCH RELAY
The number of infections with people involved in the Olympic Torch Relay has gone up to eight. Two of those cases were reported in April and six so far in May.
In Kumamoto Prefecture, WATANABE Kouyou carried the torch not only for his brother, who passed away three years ago… https://t.co/ljC5YX2JNX

— #Tokyo2020 (@Tokyo2020) 1620283673000
The six individuals found positive lately helped the relay in the southern prefecture of Kagoshima while assisting with traffic control.
NURSES ANGRY
The Tokyo Olympics organisers recently made a request for 500 nurses to help with the medical set-up for the Games, but it enraged the nurses who are already feeling stretched in the efforts they continue to put in to treat Covid-19 patients.
With Tokyo already under a state of emergency because of the rising number of cases, a demand for medical personnel has been termed "insensitive."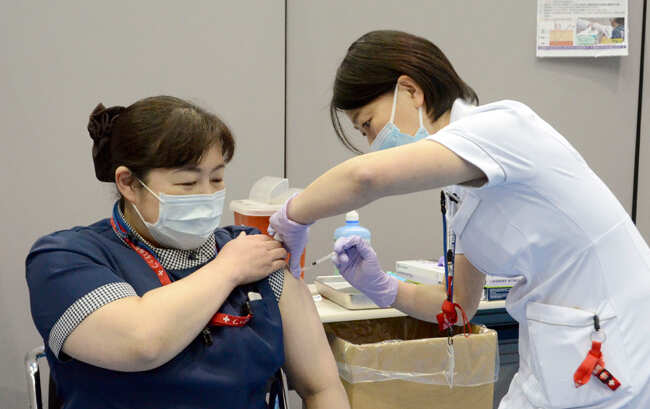 (AP Photo)
"Beyond feeling anger, I was stunned at the insensitivity," Mikito Ikeda, a nurse in Nagoya in central Japan, told the Associated Press. "It shows how human life is being taken lightly."
"It's hard for any hospital to go without even one nurse, and they want 500. Why do they think that's even possible?" Ikeda questioned.
A statement from the Japan Federation of Medical Workers' Unions said Olympics should not be the focus in times of a pandemic.
"I am extremely infuriated by the insistence of pursuing the Olympics despite the risk to patients' and nurses' health and lives," said the federation's secretary, Susumu Morita.
Adding to that, Haruo Ozaki, chairman of the Tokyo Medical Association, said hosting the Olympics is "extremely difficult".
"We have heard enough of the spiritual argument about wanting the Games. It is extremely difficult to hold the Games without increasing infections, both within and outside Japan," Ozaki was quoted as saying by the Associated Press.
22 RUGBY PLAYERS IN JAPAN TEST POSITIVE
Meanwhile, twenty-two players from the Ricoh Black Rams team of the Japan Top League (Rugby Union competition in Japan) tested positive for Covid-19 last week, which forced their playoff quarterfinal against Suntory Sungoliath to be cancelled.
As reported by Kyodo News, nine of those cases came to light last Wednesday and 13 on Friday.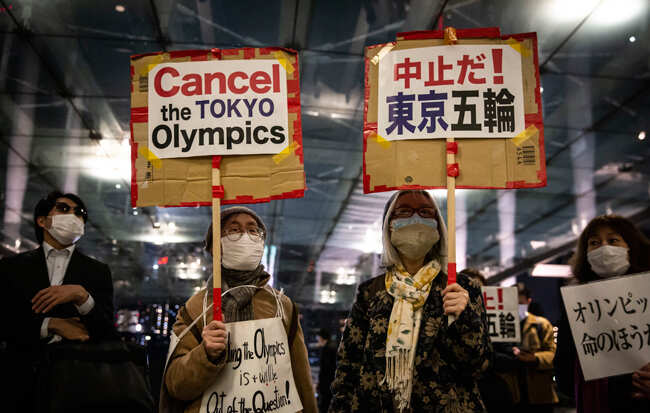 (Photo by: Yuichi Yamazaki/Getty-Images)
The rugby game was scheduled to take place at Showa Denko Dome, which is located in the city of Oita on Kyushu Island. Although more than 1000 km separate the venue from Tokyo, the instance does raise doubts over the efficacy of bio-bubbles for an event as big as the Olympics.
Hockey coach Aikman, however, differs.
"We [Japan men's hockey team] were in Malaysia last week; we were in a bubble and that works very well," the Dutchman told Timesofindia.com. "It's important that everybody [coming to the Olympics] goes into a bubble. Even the journalists, or people who come, if they come from a bubble or are vaccinated, then it should be okay."
NINE JAPAN GOVERNORS 'EDGY' ABOUT OLYMPICS
The Mainichi Shimbun newspaper sent a questionnaire to the governors of all 47 prefectures in Japan recently. Nine of them feel the Games need to be either cancelled or postponed if the risk from Covid-19 increases. Among these nine are the prefectures of Saitama, Shizuoka and Yamanashi, which are home to some of the Olympic competition venues.
The landlocked Saitama prefecture will host the golf, basketball, football and shooting competitions. Saitama's governor, Motohir Ono, sounded guarded about the Olympics in his comment to the newspaper.
(Photo by: Yuichi Yamazaki/Getty-Images)
"We're providing the most venues after Tokyo. While doing our best to prepare a safe and secure event, we need to keep an eye on the situation and calmly make a decision," Ono said.
Governor of the Shizuoka prefecture, Heita Kawakatsu, meanwhile told Mainichi: "If infections continue spreading and it becomes clear for all to see that holding the Games is impossible, then we'll have no choice but to cancel or postpone."
Shizuoka will provide the venue for the cycling competition.
WHAT AN ATHLETE'S LIFE AT THE TOKYO OLYMPICS MIGHT LOOK LIKE
Rowing athletes are currently in Tokyo for the Asia-Oceania Olympic and Paralympic Qualification Regatta, which began on May 5. It also marked the opening of the rowing course in Tokyo Bay, which will also be used for the Games. But one thing keenly looked at about the event is the nature of the restrictive environment in which the athletes have to live and its effect.
In short, the event provides a window to what an athlete's stay at the Tokyo Olympics may look like.
A report published along those lines in the South China Morning Post (SCMP) traced the journey of Hong Kong rowers who were part of the three-day event in Tokyo.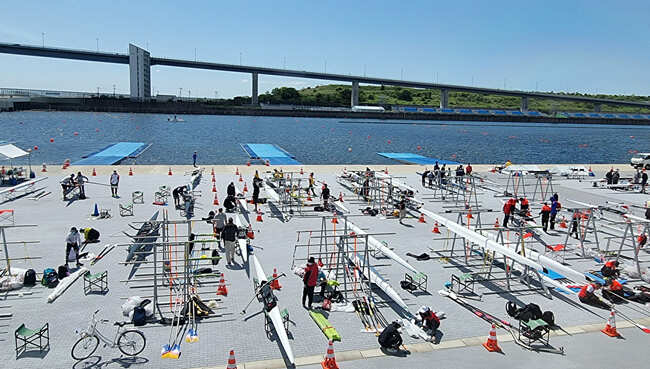 (Twitter Photo)
After their flight landed at the Narita airport, the passengers were separated into high-risk and non-high-risk countries, says the SCMP report. It followed stamping and approval of their Covid-19 certificates from the test they underwent less than 72 hours before departing from the point of origin.
The passengers were then directed to another station where they were instructed to install certain mobile applications on their cellphones, so that the authorities could track their location and movement during the course of the stay.
The arrival process was then followed by another Covid-19 test, but a rapid one only. Once the passengers cleared that, they were permitted to proceed for immigration.
At the hotel, the athletes checked into individual rooms and could leave their room only for meals and for travel to and from Tokyo Bay.
For meals, players from different countries were not allowed to sit alongside each other. Each player had to sit and eat on the same table as his team members, but "separated by partitions".
"But we are not allowed to talk to each other while eating," Hong Kong's head rowing coach, Chris Perry, told SCMP. "And we need to eat quickly because each slot is only 30 minutes. And then the next batch comes in to eat.
"It's a bit like a prison; it's not a lot of fun, obviously. It's a little bit miserable. Even in the hotel, the coaches and physio cannot go to the athletes' rooms and they cannot see us, so we can't interact with our own team."
COULD IT BE A 'CLOSED' OLYMPICS – JUST ATHLETES, OFFICIALS AND SUPPORT STAFF?
It won't be wrong to expect an absolutely closed Olympics in light of the present pandemic situation, if the Games do happen on the rescheduled dates of July 23 to August 8 this year.
The organisers have released an updated 'media playbook', and had earlier banned overseas fans altogether. The decision on whether to allow Japanese fans into the venues or not will be taken in June.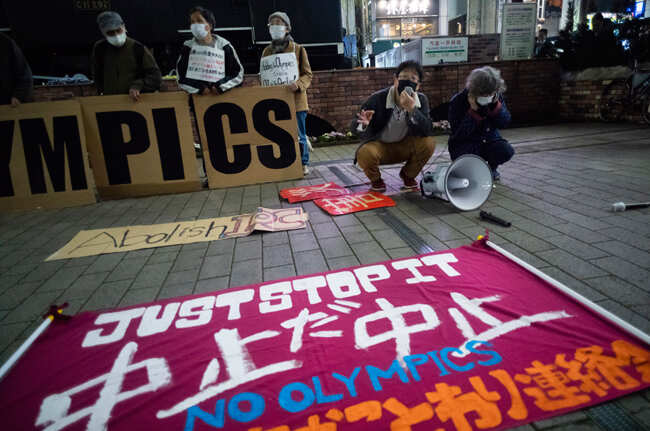 (File pic: AP Photo)
But Aikman is hopeful at least some fans would be able to attend the Games.
"I don't think it should be a totally closed, very rigid system," said the Japan hockey coach. "In the stadiums in Japan, if they reduce the [permitted] capacity to half or one-third, there still can be enough social distancing [in the stands]. If people prove that they tested negative, then why shouldn't they be allowed to come and watch as long as they follow basic rules [Covid-appropriate behaviour]." he further told TimesofIndia.com.
Aikman, however, added a rider that if the presence of fans at venues is deemed "too dangerous", then it's not a risk worth taking.
"Public health is most important. You should not take risk if it is too dangerous," he said.
But it was the comment by Hong Kong's rowing coach, Perry to SCMP that put into perspective everything taken together about the fate of the Olympics.
"At first people were whingeing about all sorts of things, but I think everybody knows it's either that or no event," Perry said.

timesofindia.indiatimes.com