NEW DELHI: The story of new WWE sensation Rohan Raja, who is of Indian origin, is one of moving from one country to another till he found his calling.
Raja, whose real name is Tony Gurshinder Singh Gill, was raised, along with his two siblings in England. His parents moved to England from Gurdaspur before he was born.
They lived in a small house and struggled in England. But their fortunes changed after Raja's father, who worked as an accountant, switched his job and moved his family again.
Raja was 6 when his family moved to Brussels, Belgium. After two years, Raja's family shifted again, this time permanently, to Brisbane, Australia.
At 23, Raja moved to Canada to begin his wrestling training and now he lives in Liverpool, England.
Raja grew up watching the likes of Shawn Michael, Kurt Angle, and The Rock and that's how he fell in love with the WWE and decided to pursue WWE wrestling as a career.
Raja, made his maiden WWE NXT-UK appearance recently where he lost to Teoman, a German professional wrestler of Turkish descent.
Timesofindia.com caught up with Raja to talk about his WWE dreams, taking inspiration from Shawn Michael, his India connection, and much more…
What was the experience of your maiden NXT appearance like?
It's hard to describe the feelings I have right now in words. It's something that I've dreamed about since I was four. And now it actually happened. It's just so surreal. With everything that's going on in India, my sympathies go out to everyone. I've actually got family there still. And it breaks my heart (to see) what's going on there (in India). But the thing about India is everyone's so strong as a country. And everyone just seems to be like sticking together. And I feel like what we're trying to do here within WWE is if we can put a smile on the (faces of) kids, the women, the men, everyone's faces, even if it's for an hour or two hours, that's what our goal is at the end of the day.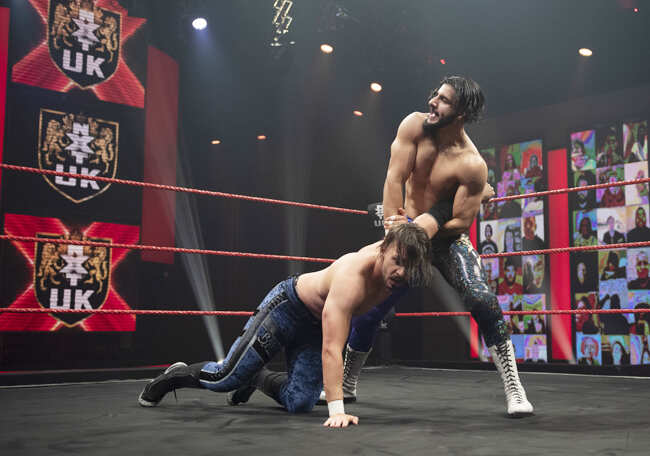 Rohan Raja (TOI Photo)
Have you ever been to India and any memories you have of the country?
I've been to India twice. My most favorite memory would be at my Babuji's house in Gurdaspur. My sister and I had to have a bath. It (The bath area) was kind of like a stone pit and a massive pipe with water coming out. That was just awesome. We used to jump in it and I've got a picture of me and my sister in it. That was by far like my best and favourite childhood memory of India.
What inspired you to become a wrestler?
I started watching WWE as a four-year-old with my dad, my brother, my mum, and my sister. And it's something that just hooked me and I just kept watching it as the years went by. I watched WWE superstars like Shawn Michael, Kurt Angle, the Rock, and Randy Orton. Those four played a big role in me pursuing wrestling because I fell in love with those guys. Watching their styles and their matches was fun. So that was a big reason why I got into it.
I'm a big Shawn Michaels fan. Shawn Michaels is my biggest inspiration. And it's very surreal because I'm working with Shawn Michaels. He pretty much runs NXT in the UK and he's my biggest inspiration.
Your name is Gurshinder Singh Gill. Why did you choose the ring name – Rohan Raja?
I wanted something unique and different. As soon as I came to WWE, I wanted to be like a new package kind of thing. So, I picked Rohan because it's an Indian name. It's like Australians use it as well. And there are some British people that have it too. Raja means king. My brother used to play a game called 'top'. Whoever reached the top of the mountain while running was called Raja (the king). And it was something that just popped in my head. So, I combined both the names – Rohan Raja. Something like Roman Reigns.
From India to Australia to the UK, what has Rohan Raja's journey been like?
I felt like people knew of me before. But then as soon as I came to WWE, I became big. There are so many people coming to me and know me now. But the biggest support I would say is from India, as the number of messages I get, the number of comments I get every day, it's just amazing. The support from India has just been huge.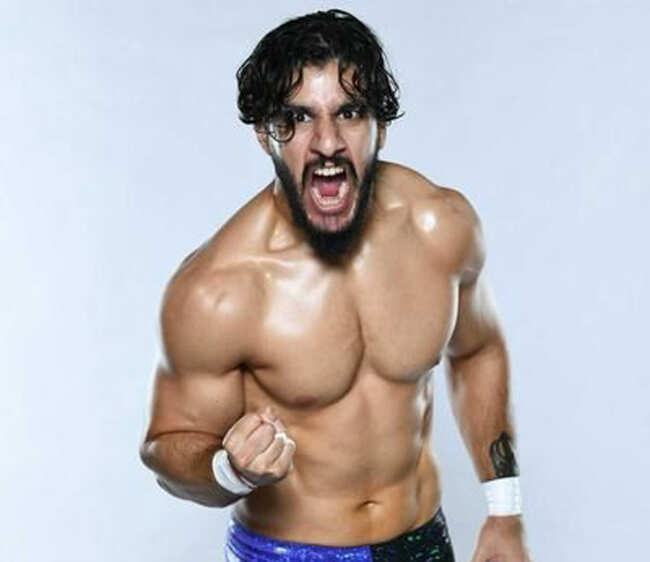 Rohan Raja (TOI Photo)
Why WWE? And what was the family reaction?
I was scared about telling my family in the beginning. I was terrified. I was like, I don't think I can do it. And my siblings were like – 'no, let's come up with a plan'. They were so supportive. I made sure I had everything set in stone. I saved up money to move to Canada, where I originally trained. And I had a blueprint of what I wanted to do. And then I sat down with my dad and then I told him. And then he just went quiet for about five seconds. And he was just like – 'okay, so where do you want to go?' and we all just looked at each other. He's been super supportive. He's my biggest supporter. And my mom was thrilled. She was scared because she didn't want her youngest son to get hurt. Everyone in my family is super supportive.
My mom used to be a columnist in a newspaper. My dad is an accountant. When we lived in England, we were quite poor. We all lived in a really small house. But when my dad got his big break, and he started working with Virgin Airlines, that's when our lives changed. And then we moved from England to Belgium and then moved to Australia. It was my dad's job that helped us, you know, get out of that.
Have you met Khali and Jinder Mahal?
I haven't met Khali. But I'm really good friends with Jinder Mahal. I remember a funny Khali story. I was in the car with Jinder. And Khali sent him a voice message through WhatsApp. I asked Jinder, is that Khali? He said 'yeah'. I was so happy and then I spoke with him (Khali) over the phone.
timesofindia.indiatimes.com