NEW DELHI: Spectators are not allowed in the ongoing three-match one-day international (ODI) series between India and England as per Covid protocols . But what if someone is determined to find a way to reach a vantage point from where he can catch the stadium action and view the proceedings as best as possible?
That's what Sudhir Kumar Gautam decided to do.
Cricket fans in India know Sudhir well. He has been a constant figure in Indian cricket matches for many years now. Sudhir has been attending every home match that the Indian cricket team has played since 2007. He is a die-hard Sachin Tendulkar fan and paints his body in the colours of the Indian flag before each India match, with Sachin Tendulkar and his shirt number of 10 also painted. After Sachin's retirement, Sudhir began painting the words 'Miss U' before Sachin's name on his body.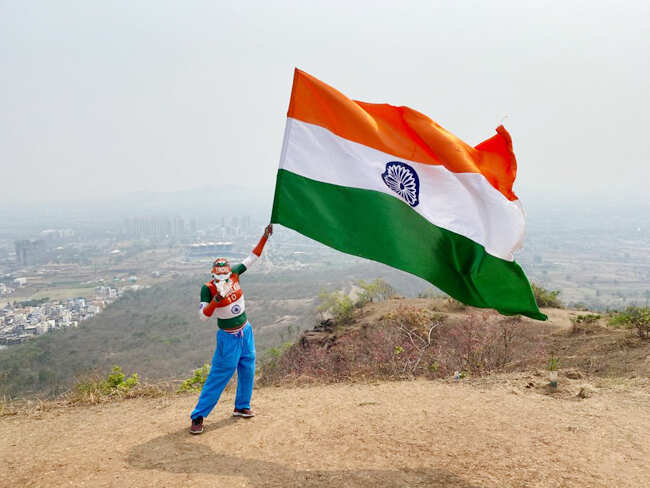 TOI Photo
Sudhir's die-hard passion of supporting and cheering for Team India is still well and truly alive. These days, with the ODIs vs England on, he gets up in the wee hours of the morning, spends almost 7 hours to get his body painted and then rushes to the Maharashtra Cricket Association Stadium in Pune, the venue for the ODI series. With a tri-colour in hand and the word Tendulkar painted on his chest and back, Sudhir blows a conch to announce the arrival of the Indian team members.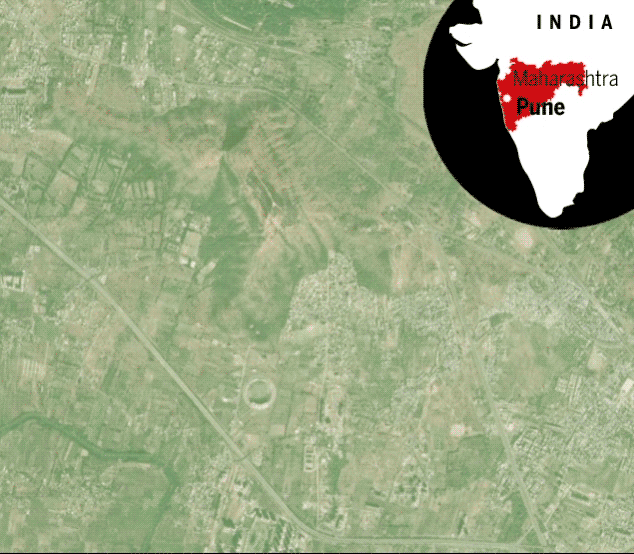 And then begins the real adventure. After greeting the Indian team bus at the stadium, he, then, covers a 2 km distance to get to a place called Ghoradeshwar. This is a place that is famous for its historic caves. The caves contain carvings and statues of Buddhist and Hindu deities.
The distance to Ghoradeshwar from the Maharashtra Cricket Association stadium in Pune is about 4.6 kms via NH48. Sudhir though doesn't have the time, not the conveyance to take that route. He therefore cuts through a forest.
This forest, according to Sudhir, has snakes and other reptiles. But that is not a deterrent for Sudhir.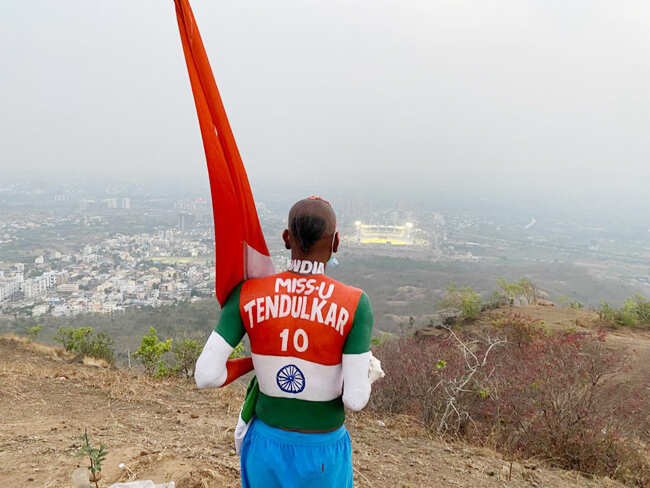 "There are a lot of snakes in the forest. I can travel via road also, but it takes a lot of time. I do not have any conveyance either. That's why I take the forest route. I have to trek across big rocks during the journey. I have injured myself a number of times during this journey. But when I reach the hilltop, the pain goes away. Zor se shankhnaad karta hun Team India ke liye (I blow the conch loudly to cheer for Team India)," Sudhir told Timesofindia.com in an exclusive interview.
From that distance of course Sudhir can't see any match action. It's just too far away. But he can see the stadium, which is lit up in the evening and feels closer to the team that he has dedicated his life to cheer for.
"I just love this place. I can't see the match or players from here. All I can see is the big screen from the stadium. Whenever a player hits a boundary, I cheer for him," Sudhir further said.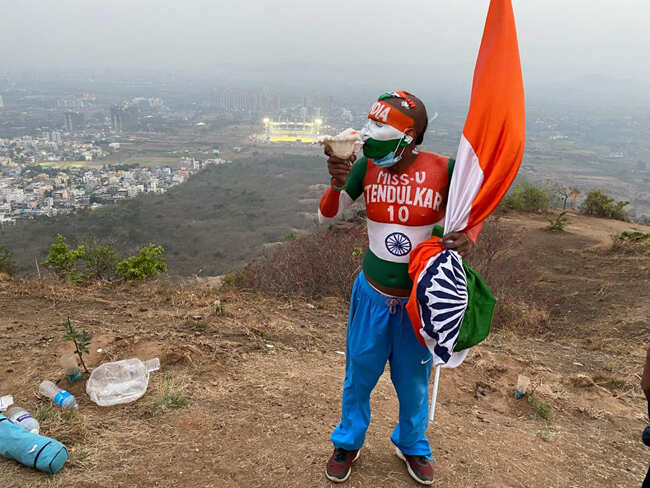 TOI Photo
Sudhir leaves the place an hour before sunset so that he can cross the forest safely on his way back.
"I watch 40 overs of the first innings and then leave. I am staying with one of my friends. He has provided me accommodation. I reach the highway and then hitch-hike. People happily give me a lift in their cars or bikes. After reaching my place, I watch the remaining action on television," the 40-year-old from Muzzarfarpur told TimesofIndia.com.
Though a die hard Indian team fan, Sudhir can never miss a match where Sachin Tendulkar is in action. During the India vs England T20I series, Sudhir was in Raipur to cheer for his 'God' who was captaining the India Legends team in the Road Safety World Series.
He met Sachin there and burst into tears. He had met Tendulkar after a long time. Sachin has been getting Sudhir match tickets for years and also paying for other expenses. In fact after India won the 2011 ODI World Cup, Sachin invited Sudhir into the Indian dressing room at Wankhede stadium.
"I was so happy to meet my God. He still supports me. He still takes care of my expenses. Whenever I go to watch an India match, he gets my flight tickets booked. I am so honoured that I am his fan. He loves me so much. I was so happy for him that he and the team won the trophy (Road safety World Series). He (Sachin) called me before departing for the hotel from the stadium and I got a picture clicked with him. He hugged me and that made me cry," Sudhir told TimesofIndia.com.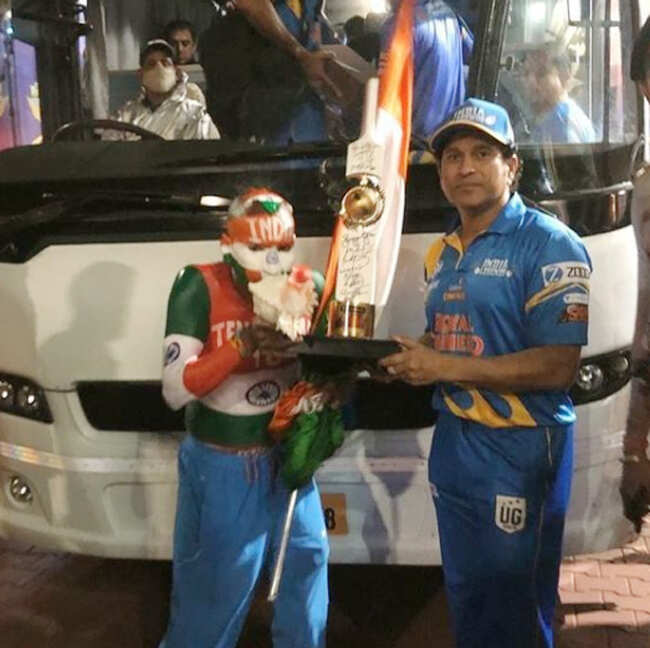 TOI Photo
Covid has brought with it a situation that is Sudhir's worst nightmare. Live cricket behind closed doors at many venues.
"Since I couldn't enter the stadium (in Pune), I opted to climb all the way up the Ghoradeshwar hills and cheer for my team from there," Sudhir signed off.
timesofindia.indiatimes.com