How many times have India scored more than 350 runs in their first innings of the last seven Tests? Zilch. The sequence reads: 165 (Wellington), 242 (Christchurch), 244 (Adelaide), 326 (Melbourne), 244 (Sydney), 336 (Brisbane) and 337 (Chennai). Of course, majority of these are away Tests but bad habits can outgrow good virtues seamlessly.
Due to two magnificent fourth innings efforts at Sydney (drawn) and Brisbane (a historic win), the above fact can get overlooked. But it's a crucial reality nevertheless. And until India improve on that, it is almost impossible to beat England even at home.
Forget winning, no team has scored more than 387 runs in the fourth innings even to draw any Test match in India. That will make India's batting effort in the first innings that much more important if England bat first.
In the fourth innings of SCG and Brisbane Tests, the drawing of the match, or winning it, was of imminent nature and this immediacy made it motivating for the team. But dropping anchor in the first innings of a Test match — either batting first or batting second — doesn't give you an immediate high. For, it's batting without clear destination and that makes it mentally more challenging.
The question is, which batsman is likely to deliver for India in the first innings against England? If India bat first, they have to negotiate 'Day 1 early morning conditions', something they haven't done against a quality bowling unit since the Sydney Test two years ago.
India had batted first in Adelaide recently, but that was a day-night affair. Remember what had happened when India batted early morning after a gap of many months in the World Cup semifinal in 2019? They surrendered to New Zealand. Hence, winning the toss and batting first in the second Test can be a double-edged sword.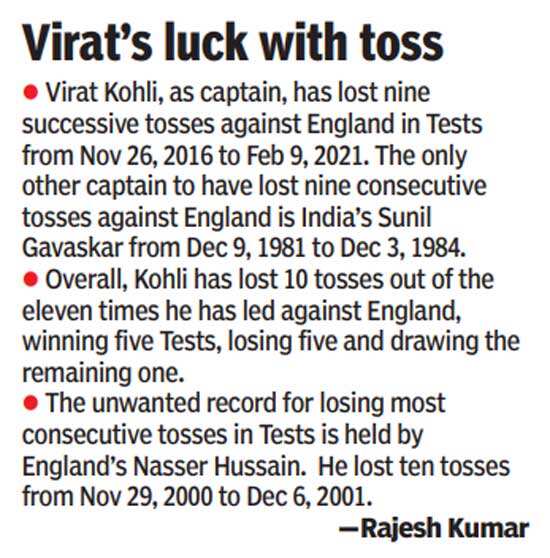 If England bat first, it's up to the Indian bowlers to ensure that the visitors are not allowed to score more than 400. For, chasing a big total is never easy, even for the accomplished batsmen, as mental fatigue (of fielding 130 overs or more) and pressure factors kick in.
Rohit Sharma has scored two hundreds as an opener against South Africa in the first innings. But Anderson-Archer-Bess are that much more consistent than Rabada-Ngidi-Nortje.
Shubman Gill hasn't crossed 50 in four first-innings knocks. In his 14 previous innings of such nature, Cheteshwar Pujara is without a hundred averaging 32.
Former India batsman Sanjay Manjrekar could have been a tad harsh but he was spot on when he pointed out Ajinkya Rahane's failure to capitalise on the MCG hundred.
That leaves us with Virat Kohli (who averages more than 63 in his previous 14 such innings with three hundreds) and counter-attacking prowess of Rishabh Pant and Washington Sundar.
However, despite consistency not being their hallmark, we can't be too pessimistic about Gill, Rohit, Pujara and Rahane.
timesofindia.indiatimes.com