NEW DELHI: India and Australia will kick-off their four-match Test series with the first match in Adelaide on December 17. This will be the first Day-Night contest between the two countries.
Australia are the world's most successful team in Day-Night Tests with a 100 percent record, winning all seven of the Day and Night Tests they have played so far. They also featured in the first-ever Day-Night Test against New Zealand in November 2015, and won the contest by three wickets.
Till date 28 Day-Night Test matches have been played across the world overall.
Sri Lanka, England, New Zealand and West Indies have all played 3 Day and Night Test matches so far. The Lankans are the most successful so far, amongst these countries having won two and lost one match.
Bangladesh, West Indies and Zimbabwe meanwhile are yet to win a Day and Night Test match.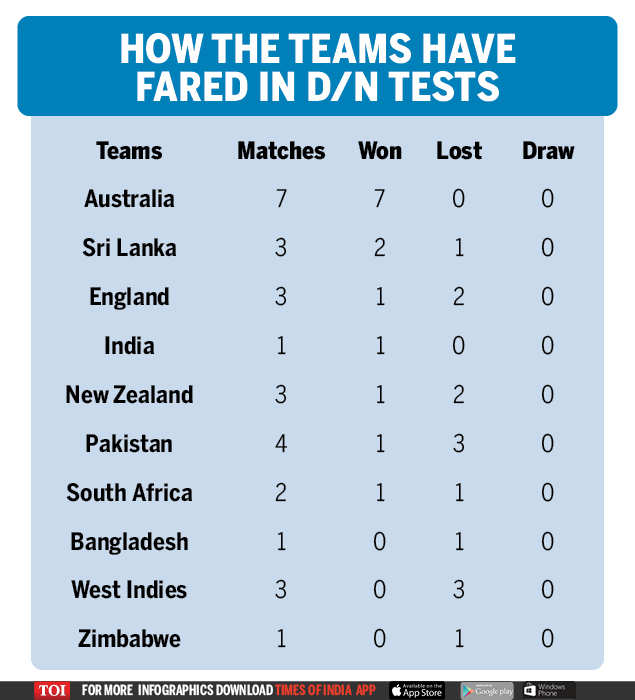 India, who were very reluctant to embrace the concept, have the experience of playing just one Day-Night Test so far, which was played in Kolkata last year. They thrashed Bangladesh in just over two days, limiting their exposure to twilight conditions where visibility can be an issue and the ball tends to swing as the sun sinks. India in fact were the 9th Test playing nation to play a Day and Night Test match.
India played a Day-Night warm-up match in Sydney recently, where Shubman Gill (65), Mayank Agarwal (61), Rishabh Pant (103 not out) and Hanuma Vihari (104 not out) dished out good performances.
Day-night Test cricket got the go-ahead from the ICC in October 2012. The innovation of the Day-night Tests was an attempt to lure back crowds into the stadiums for the longest format of the game..
Traditionally Test cricket is played with the red ball, but for the Day/Night Test the pink variant was introduced. This is because visibility becomes a factor at night.
Ahead of India's maiden pink ball Test last year (2019), Indian skipper Virat Kohli, who became the first Indian cricketer to score a Test century in pink ball cricket explained the difference between the two balls, saying: "We played with the pink ball yesterday, I felt like it swings a lot more than the red ball because there is extra lustre and it does not go away too fast and the seam holds quite upright. So I think if the pitch has enough for the bowlers then I think bowlers will be in the game especially the fast bowlers throughout the course of the test match." Kohli had told PTI last year.
timesofindia.indiatimes.com