There's a question the 14-year old Anastasia Pavlyuchenkova, a top-ranked junior in her time, might've asked her older self. It would've come following the record 52 attempts the 29-year-old made to make her maiden Grand Slam final."What took you so long?" Pavlyuchenkova wondered.
The seasoned Russian will take on Czech Barbora Krejcikova for the French Open title on Saturday.
Krejcikova, the owner of the sharpest angled forehand in the women's game, grew up in Brno –the second largest city in the Czech Republic after its capital Prague.
"I was never thinking that I would actually play the pros. I was just having fun," the 25-yearold said. "Later on, when I was 16, 17, I started thinking, maybe I can actually have a career, but I never imagined that I'm going to be a Grand Slam finalist."
Krejcikova, the 33rd ranked singles player, was world No. 1 in doubles after winning the titles at the French Open and Wimbledon in 2018, playing alongside compatriot Katerina Siniakova. She also won three consecutive Australian Open mixed doubles titles between 2019 and 2021.
"Everybody put a label on me, I never really wanted to be a doubles specialist," said Krejcikova, who is in line for a double crown this weekend having made the doubles final with Siniakova.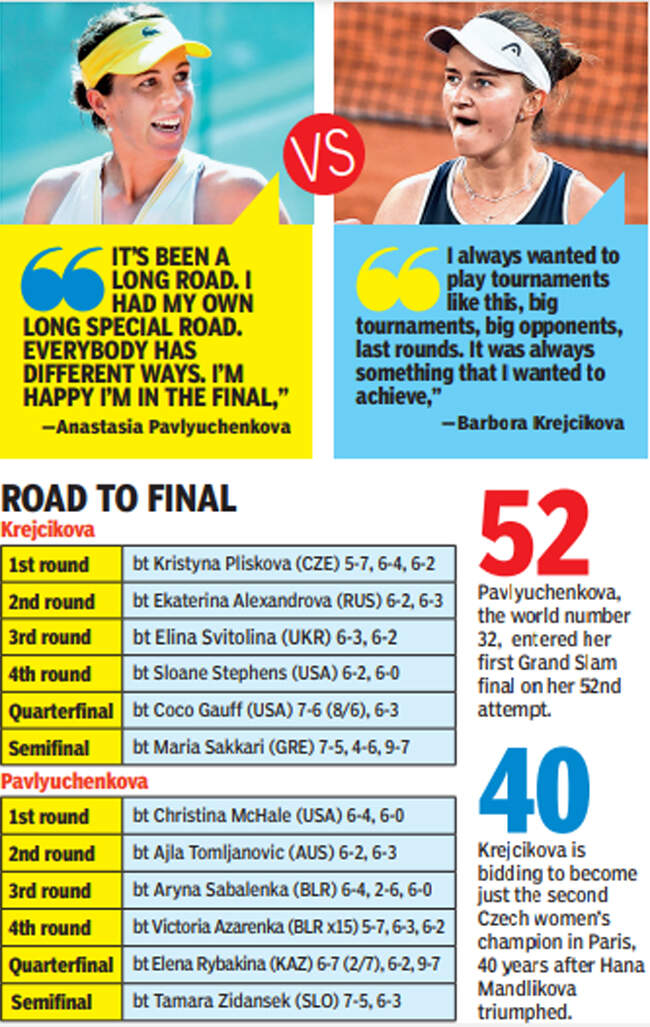 Krejcikova, who arrived in Roland Garros last September ranked 114, dreamt of being involved on a 'Grand' stage. "I always wanted to play tournaments like this, big tournaments, big opponents, last rounds. It was always something I wanted to achieve. It was just taking so long," she said. "Especially mentally, I've really matured."
Krejcikova, who was mentored by Czech legend Jana Novotna, who lost her battle with cancer in November 2017, said Novotna would be happy for her. "I think she would tell me that she's very proud," said Krejcikova, who pointed skywards during her oncourt interaction.
"She would tell me to just enjoy, keep going. It doesn't matter if you win or lose; you just have to do your best every single time you step on the court. Just play, just enjoy, just have fun, appreciate that you can be here, and you can do what you love."
Somewhere up there, Novotna is smiling. Not for the result, whatever it may be, but for the fight.

timesofindia.indiatimes.com