HYDERABAD: The Covid-19 lockdown brought sporting activities across the globe to a grinding halt but the break turned out to be a blessing for India's latest pace sensation Mohammed Siraj, who used the opportunity to work on his bowling and make an instant impact this season.
Hyderabad's erstwhile fast bowler Jyothi Prasad said the lockdown was a boon for Siraj. "There has never been such a long break for cricket. I am sure that Siraj worked a lot on his bowling during the break and the consistency he has shown this season is proof of it," he told TOI on Saturday.
Siraj concurred with it. "I knew this was going to be a crucial season for me as I had not done that well in the IPL last year. Hence, during the lockdown, I worked harder on my bowling. I did a lot of practice by bowling at a single stump," Siraj said.
On 21 October 2020, Siraj became the first bowler in IPL history to bowl two maiden overs in a single match. He followed it up with a tremendous Test series against Australia Down Under.
The backing of India and RCB captain Virat Kohli also helped Siraj through the tough phase. "Virat bhai told me that I had it within me to do well. He kept telling me to bowl a consistent line and length. I just tried doing it. Earlier, I had put a lot of pressure on myself but this season, I learnt to relax and let the ball do the work," Siraj remarked.
Prasad and India's fielding coach R Sridhar said India's bowling coach Bharat Arun deserves all the credit for Siraj's success. "Arun fine-tuned him. He worked on him hard and all credit to him for Siraj's success. Siraj was under the right coach and that helped him," said Prasad, who had picked Siraj for Hyderabad's U-23 team.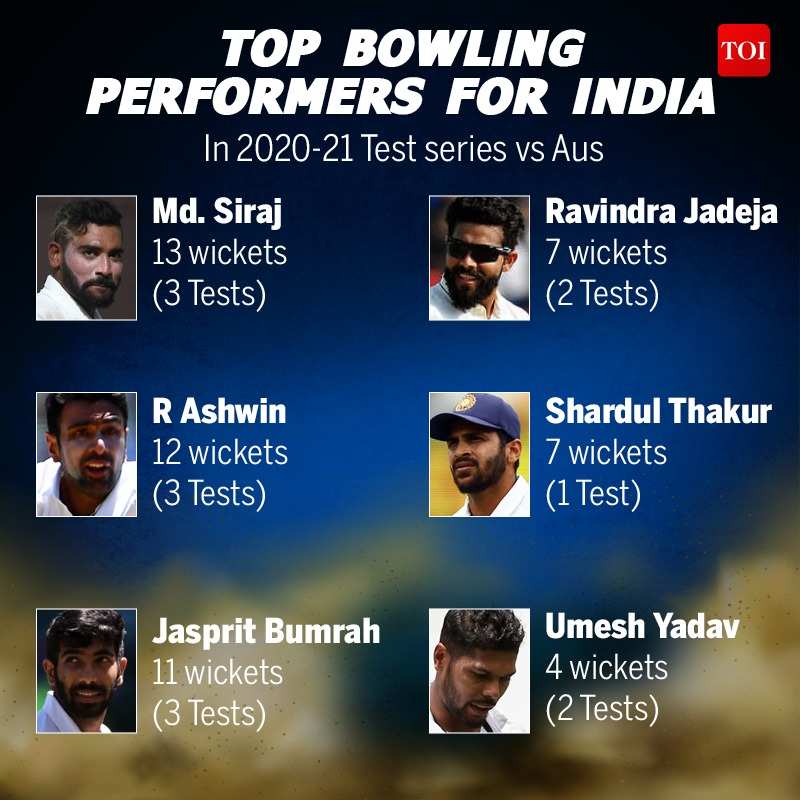 "A lot of credit has to go Arun – right from the time he was the head coach for the Hyderabad team. Yes, he was picked up by others but was placed in Arun's hand, who cut and polished the raw diamond to get to the consistent levels he showed at Gabba by getting five Australian wickets," Sridhar said.
"There is a lot of difference in the Australian and Indian wickets. In Australia, if you bowl a little short of good length, the ball really flies and moves. In India, it will become a short-pitch delivery. So the conditions helped him but the boy has proved himself. Bowling consistently at that speed is unbelievable," Prasad added.
"It is a miracle. When I saw him the first time, he looked like a very ordinary bowler and I never expected him to play for the state leave alone India. He has worked very hard and whatever he is today is because of his hardwork and dedication," said Abdul Azeem, who was the coach of the Hyderabad team when Siraj made his debut
"He has improved his pace and has started moving the ball. Earlier, he was quick but the movement was very less. But since he started bowling up to the wicket and moving the ball, he has looked like a different bowler.
"This year in the IPL too he got wickets because he was able to move the ball and in Australia the conditions suited him a lot. Believe me, the BCCI kept him in NCA for a year – he was not allowed to play Ranji Trophy too. He only had to work on his fitness and bowling skills. That helped and shaped him up. Hats off to the BCCI which invested in him," Azeem said.
Former India player Pragyan Ojha said Siraj was suited for the longer version of the game. "He is a very dangerous bowler when he bowls up and hits the right length. He has developed a lot of consistency this season."
timesofindia.indiatimes.com