MUMBAI: Observing that allegations in a complaint against 33 accused were prima facie "well-founded", a special Narcotics Drugs and Psychotropic (NDPS) Act court recently took cognisance of the chargesheet submitted in the drugs case probed in connection with the death of actor Sushant Singh Rajput. On March 5, Narcotics Control Bureau (NCB) submitted the voluminous document against several accused, including actor Rhea Chakraborty.
"Perused the complaint or chargesheet… The documents are also relied upon by the complainant along with CDR of mobile numbers of Reliance Jio, Vodafone, Airtel, etc. The complainant has relied on digital evidence as well as documentary evidence. Prima facie, allegations in the complaint are well-founded… for taking cognisance of the alleged offences," the court said.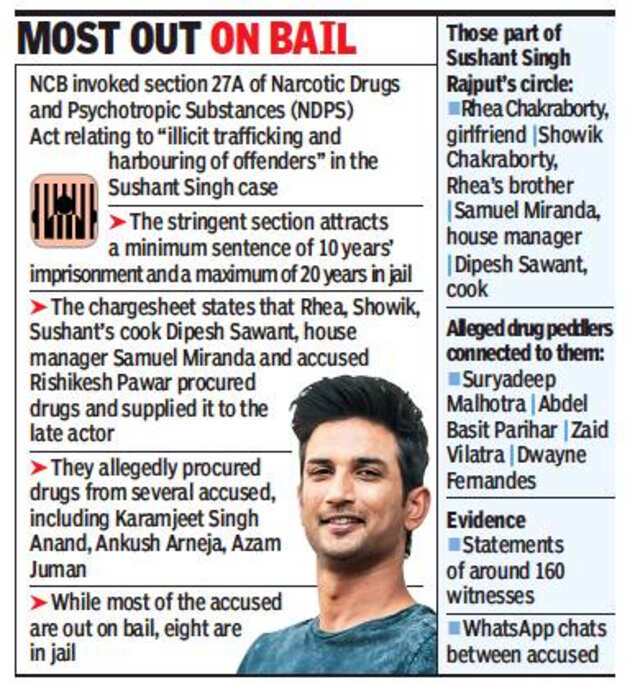 The court had also issued summons against the 33 accused. "As the number of accused in this case is 33, due to Covid-19 circumstances, and to avoid gathering of several persons in court, the production of accused/appearance of the accused has been classified in three categories, as per sections imposed on them and their status as to whether they are in JC (judicial custody) or on bail," the court had said earlier this month.
Subsequently, accused Jinedra Jain and Rahila Furniturewala submitted bail pleas which are pending. Australian architect Paul Bartels, who is out on bail, submitted a discharge plea. The matter was adjourned to Tuesday.
In the next stage, the prosecution will submit draft charges. The accused can also submit discharge pleas. The court will then decided which charges, if any, are to be framed against the accused and if any are to be dropped. Once charges are framed, the trial in the case can commence. But if any accused is discharged, proceedings against them end before NDPS court.
timesofindia.indiatimes.com